COMMISSION CUSTOM ARTWORK!
Send me your picture and I'll paint you!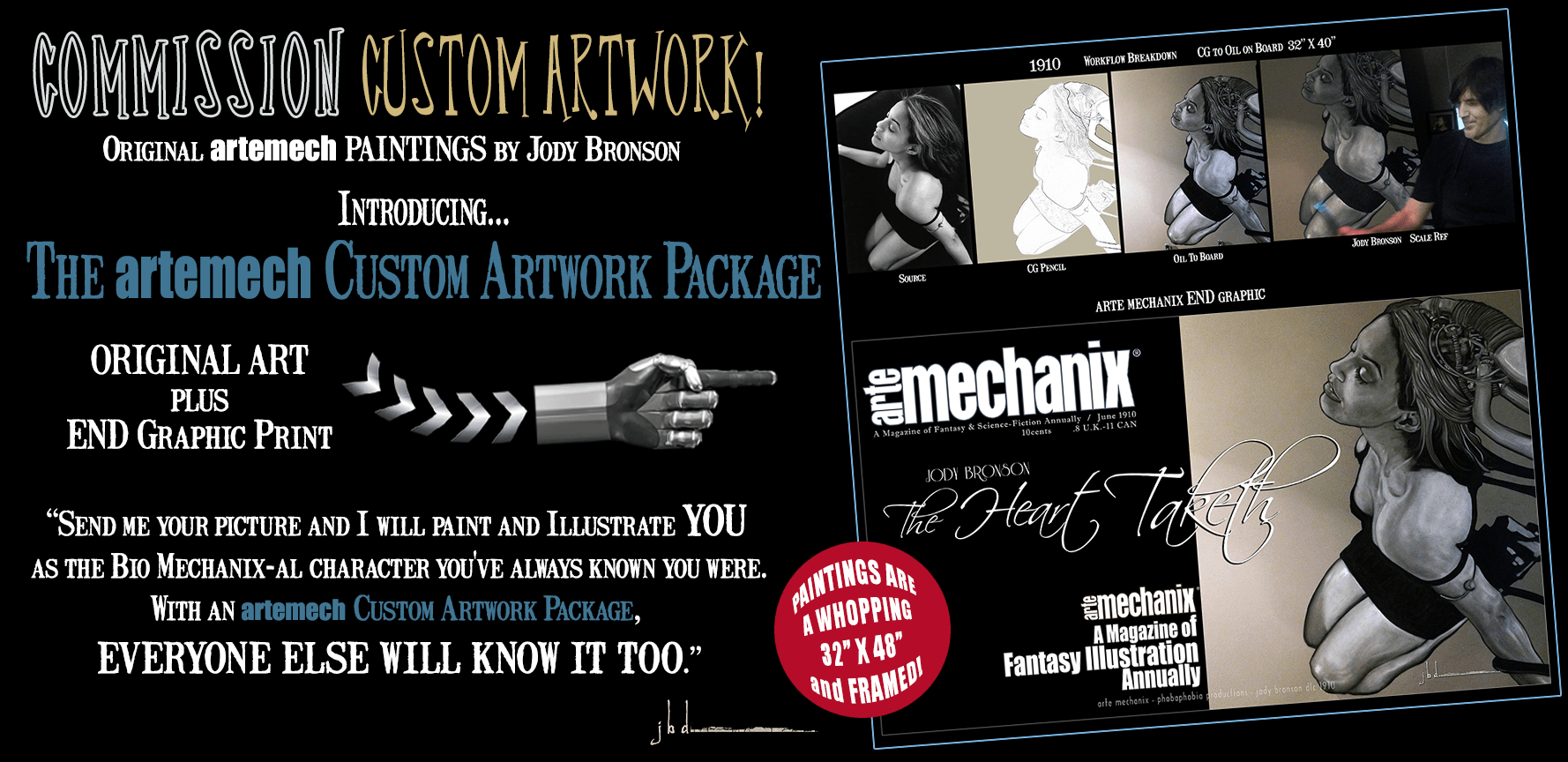 Introducing...The artemech Custom Artwork Package
Are you, deep down inside…
an Alien Riding Gladiator?
a Steampunk Detective?
a Cyber Trans-Human Boxer?
a WW4 Zombie Hunter?
a Post-Apocalyptic 'Mad Max'inian?
a Trigger-Tempered Fashion-Savy Endo Skeleton?
a Westworld Gunslinger?
a Sinister World Order Femme-Fatal Kremlin Spy?
All of the above??
Send me your picture and I will paint and Illustrate you as the artemechanix-al character you've always known you were.
The artemech Custom Artwork Package
will include the original 'oil on board' artwork, as well as a final customized 'END' graphic print, signed and numbered by the Artist.   Yes! You get both!
This is your chance to commission a unique 'Custom' monochromatic ORIGINAL artwork. (Oils on board sized 32″ X 48"),  framed and mounted.
The ORIGINAL art may include mixed materials, possibly pencils, charcoal, inks, etc, but are primarily oils and acrylics.
Details about the END GRAPHIC:
The artmechanix END GRAPHIC will feature YOU as a painted character in a storyline cover of your own artemechanix Fantasy Art Magazine PRINT.
As an artemech (artemechanix bio-mech) character, it's not about who you are, but who you think you want to be that matters. Whatever character you desire. Just click the contact link with your vision of YOU in a few words.  A pirate dragon slayer from Mars?  No problem.  Oh, and if by chance you can't think of anything, then a character in your image will be created for you, slaying that dragon, swabbing that deck, you get the idea.)
For details and pricing click the button below…