COMMISSION CUSTOM ARTWORK!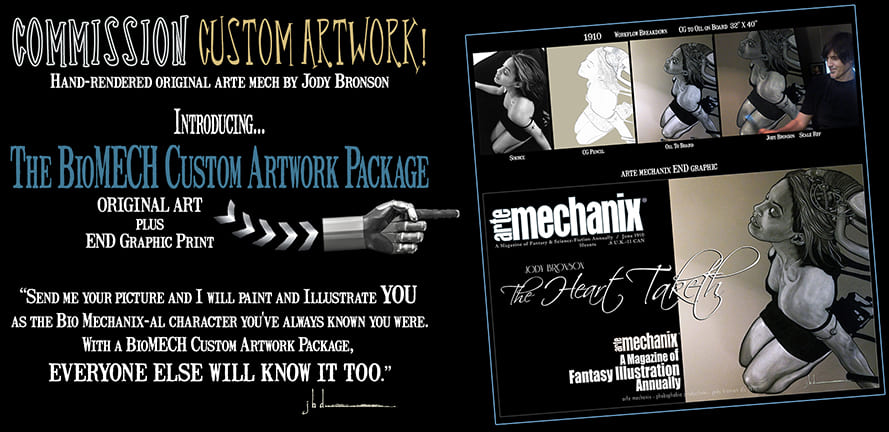 Introducing...The artemechanix Custom Artwork Package
Are you, deep down inside…a Cyber Trans-human MMA Striker?…a WW4 Android Zombie Hunter?…a Post-Apocalyptic 'Mad Max'inian?…a Trigger-Tempered Fashion-Savy Endo Skeleton?…a Steampunk Detective?…a Westworld Gunslinger?…an Alien Riding Gladiator?…a Sinister World Order Femme-Fatal Kremlin Spy?
All of the above??
Send me your picture and I will paint and Illustrate you as the artemechanix-al character you've always known you were.
The 'artemechanix Custom Artwork Package'
will include the original 'oil on board' artwork, as well as a final customized 'END' graphic print, signed and numbered by the Artist.   Yes! You get both!
This is your chance to commission a unique 'Custom' monochromatic ORIGINAL art work (Oils on board 32″ X 40″).
The ORIGINAL art may include mixed materials, possibly pencils, charcoal, inks, etc, but are primarily oils and Acrylics.
Details about the END GRAPHIC:
The artmechanix END GRAPHIC will feature YOU as a painted character in a storyline cover of your own artemechanix Fantasy Art Magazine PRINT.
As an artemechanix bio-mech character, it's not about who you are, but who you think you want to be that matters. Whatever character you desire. Just click the contact link with your vision of YOU in a few words.  A pirate dragon slayer from Mars?  No problem.  Oh, and if by chance you can't think of anything, then a character in your image will be created for you, slaying that dragon, swabbing that deck, you get the idea.)
For details and pricing click the button below…